Battery Contacts and Springs
Product Overview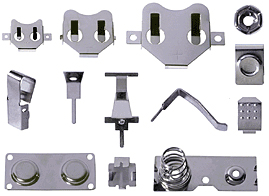 MPD manufactures a variety of battery contacts.

MPD manufactures battery contacts and springs for use with cases that have molded battery compartments, as well as for PCB mounting. These cost effective contacts allow you to design your own battery holder right into the body of your device, while guaranteeing strong electrical connectivity with MPD's high quality battery contacts and springs. We make contacts and springs for use with all popular battery sizes, as well as some generic contacts for use with other types of cells.
Find All Battery Contacts and Springs
The full selection of battery contacts and springs currently available can be viewed here.
Battery Holders
We also offer a full selection of battery holders, which can be viewed on our battery holder website here.